Coverking Custom Windshield Sun Shields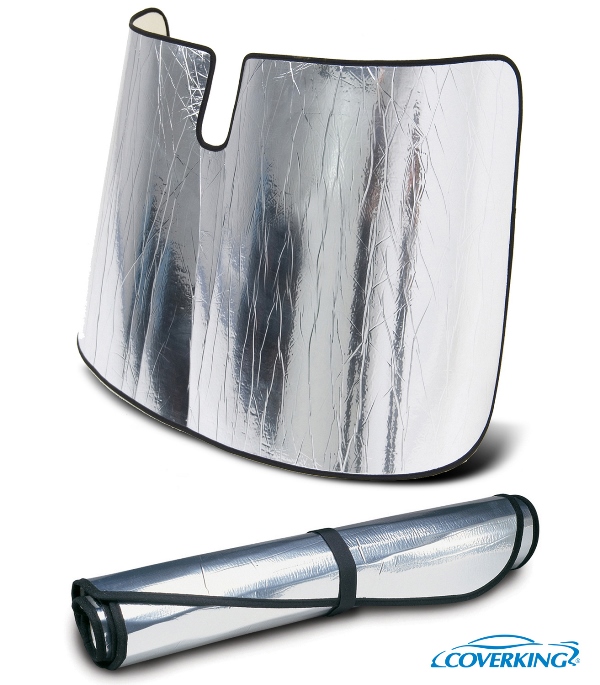 Coverking Custom Sun Shield
Reduces interior temperatures
Custom tailored in the USA for a perfect fit for your specific year, make, model
The internal layer insulates against heat while harmful uv-rays bounce off the reflective metallic surface
Prevents cracks in your dash and interior fading
Rolls up and stores easily with a built-in Velcro strap
Easy to install and easy to maintain
Coverking's true Custom Sunshields are made-to-order specifically for your Vehicle. Every pattern is designed specifically for your make, model, year, and options. These are not 'one size fits all' sun shields. Your windshield has been analyzed by Coverking engineers using state-of-the-art 3D scanning equipment. The custom pattern is tested for precise fit and durability and guaranteed a great fit with Coverking's Sunshield. To achieve optimum reflection and insulation of heat and UV rays, most materials are still and not able to fold or roll. Coverking developed a special high-density foam which has excellent insulation properties, and laminated it between two layers of Mylar. The outer layer is Mylar with an aluminized coating, which reflects virtually all UV rays. The inside layer is plain Mylar, which adds rigidity and protects the middle foam layer. These three layers work together to provide the best heat and UV reflection, insulate against heat, and withstand numerous folding and rolling while maintaining rigidity to hold it's shape while on the windshield.
Mechanic's
Find a Mechanic: Choose Region
Home
Please choose the regional area in which you need to find an automotive mechanic.

Warning: Undefined variable $pdo in /home/toptuneups/public_html/index.php on line 55

Fatal error: Uncaught Error: Call to a member function prepare() on null in /home/toptuneups/public_html/index.php:55 Stack trace: #0 {main} thrown in /home/toptuneups/public_html/index.php on line 55